Attorneys sworn in as pro tem judges to help combat backlog
Posted:
Updated: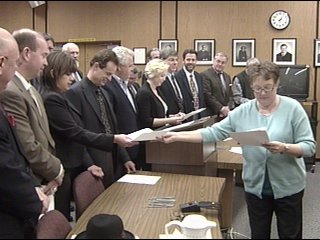 YAKIMA, Wash. -- There are eight elected judges in Yakima County Superior Court, but Friday that number jumped to 31 as local attorneys were sworn in as pro tem judges.
"Raise your right hand and repeat after me," said Judge Ruth Reukauf, Yakima County Superior Court, as she swore in the new judges.

Yakima County has a backlog of cases, many people wait months even years to get a trial.
"There's a pecking order, it starts with the criminal gets first shot at jury trials and court room time. Then you go to the domestic calendar and then last are the other civil cases," said Al Schweppe, attorney and pro tem judge.
The eight judges hear criminal cases first because of speedy trial rules pushing divorce proceedings and injury settlements back. The 23 pro tem judges will hear those civil cases. It's an experiment but, Judge Ruth Ruekauf thinks more cases will move through the system.
"Whatever the numbers are [it's] going to be numbers that we potentially would not have reached this year with our existing judicial resources so it's a win win," said Ruekauf.
Both sides have to agree to use a pro tem judge or they can wait for one of the elected judges to hear their case. The attorney's will continue with their private practices and sit as judges when needed.
"Attorneys coming into pro tem it's not a new concept, what's new is that they're doing it without compensation and that's huge. I think it speaks volumes for our legal community," said Ruekauf.

"I mean we can sit and complain and gripe all we want, but are we willing to do something," said Schweppe.
The pro tem judges will start right away to help cut down the backlog.