Community gathers for anti-gang forum
Posted:
Updated: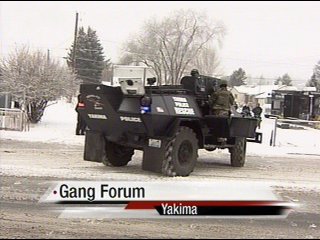 YAKIMA--The fight against gangs is picking up steam. Hundreds came together Saturday to speak out against the violence.
Families from all across the Yakima Valley met to map out a plan to help curb gang activity.
Gang violence: it's Yakima's biggest burden.
Stopping it: that's many people's greatest goal, and the reason Martha Gomez brought her whole family to Saturday's event.
"Worried that when they grow up they get in to gangs and they fall into drugs or they get killed. She wants them to grow up and be somebody."
Her dream starts at home.
"Spend time together," Sgt. David Cortez said when asked what parents can do to protect their kids. "A family has to spend time together. That's where it all begins."
As the head of the Gang Resistance Education Training (GREAT) program, Cortez spends much of his time talking to kids.
Saturday he brought the message to the adults, showing them warning signs like clothes and behaviors that can mean the kids in your home or your neighborhood may be headed down the wrong path.
While it may start with Mom and Dad, it doesn't end there.
"We all need to be on the same page in order to go ahead and sending that same message so that way it becomes something routine for a child and they understand that then it's expected from them."
Though a few hundred people made it Saturday, there were plenty of empty seats.
"If we get more parents and civic leaders to come out, they'd see what needs to be done and participate in situations like this," Erik Mills said. "They'll see that this is really something that's going to benefit not the present time but the future time for here in Yakima."
Police don't ever expect to completely eliminate gang violence, but they believe with a community operating together in opposition to the gang culture, Yakima can limit how many people gangs affect.