Man shot at for wearing red shirt in East Yakima
Posted:
Updated: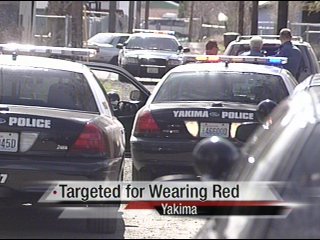 YAKIMA, Wash.- A young man is shot at for wearing red in east Yakima. Police say the victim is not a gang member but was targeted for what he was wearing.
The 21-year-old man was driving down South Seventh Street and Adams Street Sunday when a van pulled up beside him and shot at him. Officers believe gang members targeted the victim because he was wearing a baseball cap and red shirt.
"Yakima is small enough that most of our gang members know each other, they know the rivals, they can see who it is, they're generally trying to shoot their gang rivals," said Sgt. Tony Bennett from the Yakima Police Department.
Not in this case. Gang members targeted an innocent man for wearing red. Nearby residents say it's not surprising and worry gangs are getting more reckless.
"They just shoot in the air, they don't pay attention to whether there are people around them or if there are children, they just shoot," said Lila Arango, a neighbor.
Many neighbors avoided our camera for fear of retaliation. Some of them admitted they don't wear certain colors like red or blue. Others say, they deal with gangs by ignoring them.
"Put too much emphasis in all that gang stuff, it's ridiculous, who's turf is it anyway? That's my property, that's their property and they think they own it, come on," said Russ Tweeten, a neighbor.
Officers say the victim drove himself to memorial hospital and was treated for minor shoulder injuries.
Police officers are still looking for the suspect and investigating the shooting. If you have any information, call the Yakima Police Department.