A look inside a Umatilla sweat lodge
Posted:
Updated: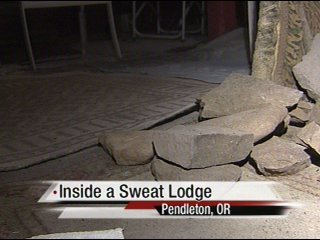 PENDLETON, Ore.-- A few miles outside of Pendleton is a tradition almost as old as Native Americans themselves. Often shrouded in confusion and fear, sweat lodges are an integral part of the Confederated Tribes of the Umatilla Indians' culture.
KNDU was invited to join a traditional sweat lodge ceremony, or "sweat." 49-year-old Victor Bates is a Umatilla Indian, and has been using his own sweat lodge outside his home for over a decade. The lodge itself is small, only about six feet across and three feet high. It is a covered dome made of burlap, designed to keep the heat in, but also allow oxygen to flow.
"In the beginning," he says, "it was just how we cleansed ourselves. It's how we bathed. Sweat baths. It was a sweat bath back then. That's how it started I think over time it's evolved into what it is today."
What it is today is all about cleansing and camaraderie. Part physical, spiritual and mental, the premise is simple. Fill a pit with red hot rocks, pour water soaked with medicine roots over the rocks, and make the lodge get hot. Very hot. Temperatures can reach between 100 and 150 degrees Fahrenheit.
Sessions inside can last anywhere from fifteen minutes to over an hour. Inside it is pitch black, and participants share stories, talk about their day, sing religious songs and pray.
Watch the video on the right to see inside the sweat lodge.
-- Chris Hurst. Send him story ideas at chris.hurst@kndu.com