Richland con artist pleads guilty to real estate fraud
Posted:
Updated: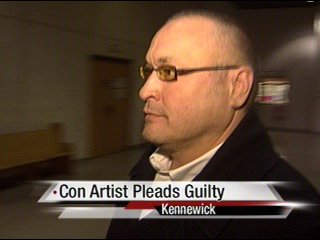 KENNEWICK, Wash – A Richland man accused off real estate fraud, plead guilty today to first-degree theft.
"The charge of theft in the first degree, how do you plead sir?" said Judge Cameron Mitchell.
"Guilty," stated 48 year-old Armen Weishaar.
"The court finds your plea of guilty with knowingly and voluntarily made. The court also finds there's accurate and factual basis to support your plea and based on your plea sir, the court finds you guilty with the crime of theft in the first degree," explained Judge Mitchell.
After pleading guilty today, Weishaar left the courtroom and would not comment.
However, Sal Mendoza, Weishaar's attorney stated, " I think he understands why this needed to be done and he is also taking responsibility for his own actions and that's what he did in this case."
Prosecutor Andy Miller dropped five of the six charges against Weishaar as part of the deal, however Weishaar is being charged with a felony.
"The victims all wanted him to have at least one felony conviction so he wouldn't be able to do something like this again," said Miller.
"Well having any felony on one's record is very difficult," Mendoza said. "Especially someone who has never been in trouble with the court system. So, I think that's been very difficult for him, however, like he said, he does want to move forward and wants to get this behind him."
Weishaar will pay $80 thousand in restitution that will be split between all of the victims. $55 thousand is already paid back and in the bank.
"Ultimately, Mr. Weishaar wanted to get some money to the victims in this case and have them at least made partially whole and that was his intention," explained Mendoza.
Weishaar will also spend up to ninety days in jail.
"The standard range is zero to ninety days, so the judge could give him up to ninety days and that's what the recommendation from both sides will be," said Mendoza.
Very few victims showed up for the hearing.
"I think the victims feel betrayed. I think that he [Weishaar] used friendship and he used a developed relationship and personal relationships to get to the point where they would trust him, and I think they feel like they've really been used by him" Miller explained.
Weishaar was originally charged back in 2008 with six counts of first-degree theft. He reportedly received more than $380 thousand total from Tri-Citians. Wieshaar took large amounts of money from people, promising to invest the money in real estate. However, Weishaar never returned the money or followed through with the real estate deals.
Sentencing for Weishaar will be held Thursday at 1:30 P.M. at Benton County Superior Court.