Warning from Governor: 20% cut to all state agencies
Posted:
Updated: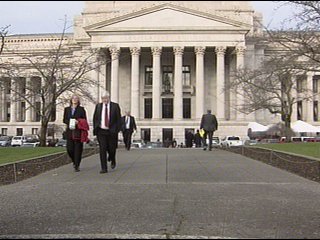 RICHLAND, Wash-- Back in his Richland office for the first time in months, Representative Larry Haler is just hearing about the Governor's newest warning: 20% statewide cuts.
"My immediate reaction is wow," Haler says.
The Governor, clearly frustrated a budget hasn't been finalized, says she may have no other choice but to make the hard decision.
"I think what she's doing is throwing the gauntlet down," Haler adds.
Lawmakers have been battling over which tax package is the answer--temporary sales tax or a service business tax.
"There was no sense of urgency in the house or the senate majority to end the special session early," Haler explains.
Here's what the Governor's office says the size of the cuts would be equivalent to: approximately 20,000 basic health plan slots. 55 DSHS child protective service workers. 57,000 fewer slots for colleges and universities. And the incarceration of more than 6,000 prison offenders.
"We're running a $15 million budget out here. If you take 20% that's $3 million," explains Rom Castilleja, superintendent with the Kiona-Benton School District. Castilleja says deep cuts may run a little too deep.

"We are expecting this year somewhere, in the initial budget, it was $1.5 million to us and there was no way that we could look at that and provide the kind of programming that we're providing with that kind of a cut. And so for her to take 20%, $3 million, that would be devastating to a district like ours."