Sunnyside Community Center reopens
Posted:
Updated: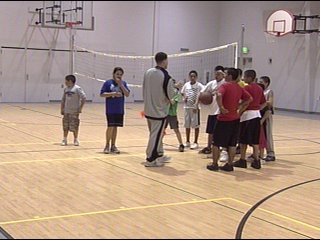 SUNNYSIDE--Spring break is here for many students all over the Yakima Valley. What will your children be doing? In Sunnyside, kids have an old--but new--place to hang out.
It's been almost two years since playful noise filled the Sunnyside Community Center.
Working on a tight budget, the city closed the center in August 2008. Now, nonprofit organization Sunnyside's Promise has it back up and bouncing.
"This is where we start engaging kids back into communities and programs," Sunnyside's Promise Executive Director Mark Baysinger said. "That will take them into more pro-social activities. We give them choices."
About 30 people showed up at the center Friday morning, including parents like Ruben Singletery.
"It's nice to see that there's kids that want to come out here and participate in something that's positive," Singletery said.
Baysinger says getting children involved is the easy part.
"We're not going to have any problem filling this thing up. There's just a real need for this, kids are looking for something to do and this gives the opportunity to do that."
While basketball, bowling and air hockey were Friday's most popular games, Sunnyside's Promise wants to offer much more.
"From educational [activities] to community service to health and fitness, we want to try to bring a number of things," Baysinger said. "Cover [recreation] over [an age] span from the younger kids to the older kids."
Baysinger and Sunnyside's Promise are staffing the center with case managers who normally work in Sunnyside schools over spring break.
When they go back to work in ten days, the center will close again.
But, a grant from the University of Washington could let them open up in the summer, and maybe even sooner.
"I know we'll use [the community center]," Glenda Morgan said. "We're always looking for something to do, someplace to go to keep them active and doing something besides sitting on the couch."
Center organizers want your ideas on what services to offer and how to staff the building.
They'll host a forum at the community center on April 6, starting at 6:30 p.m.