What the new health law means for seniors
Posted:
Updated: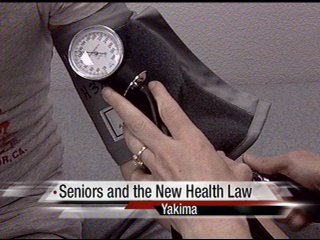 The new health care law is literally thousands of pages long; it's too much for most people to sit down and read. Many don't know what's in it.
Omer Gress is a Medicare recipient who's unsure of what to make of the new legislation. "There is quite a few changes especially for those not on Medicare but maybe for us on Medicare, not so much".
What some seniors may find most surprising is not what's in the law, but what's not in it.
Marion Fretwell fears some of the rumors that have been swirling. "Rumor has it that I am expendable because I'm 91-years of age".
While there is nothing in the law about death panels, there is a lot to do with seniors. There are both cuts and additions to Medicare.
The gains will come through prescription drug benefits. Under the current Medicare plan, after a senior spends $2,700 on prescription drugs, their coverage stops, and doesn't pick up again until they've spent $6,154. That gap in coverage is known as the "doughnut hole". Over the next 10 years, the "doughnut hole" in coverage is reduced BY $2600.
Medicare will also see some cuts. Medicare advantage offers extra benefits beyond Medicare. These plans are run by private insurers and will be cut by $132 billion dollars. That means doctors who accept Medicare advantage, will get paid less per patient. This could lead Medicare advantage to cut benefits or for doctors to stop accepting it altogether.