Asparagus industry facing tough times
Posted:
Updated: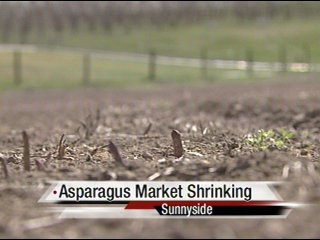 SUNNYSIDE--Some chilly mornings in the Yakima Valley cooled off what looks to be an early asparagus crop. But, weather isn't the only issue facing asparagus growers right now.
Freezing temperatures didn't do much damage to local asparagus crops, but when harvest time comes this early in the year, anything can happen.
"We could freeze tomorrow and have to knock everything down," Chad Roberts, President of Andrus & Roberts Produce, a Sunnyside packing and shipping company, said. "That puts us ten days behind."
Roberts expects the bulk of the harvest to begin next week. That's earlier than last year, but it's already too late to get locally grown asparagus onto people's Easter menus.
"Starting early actually doesn't help us at all because all the Easter ads are there, the stores are running ads and promoting this week," Roberts said. "Typically, the week after Easter [when local asparagus will be available] is not a good marketing week."
It's bad timing in what's become a bad time for the asparagus industry all over Central Washington.
"Simply supply and demand and profit margin," Don Schilperoort, a Sunnyside-area farmer, said. "There just isn't a lot of profit in the fresh market asparagus anymore."
Schilperoort and Roberts blame Washington's high minimum wage for processing plants moving out of the state and to Peru earlier this decade.
"They're just flooding the East Coast with product and at cheaper prices," Roberts said. "And we can't compete with them."
Andrus and Roberts produce packed and shipped 6.5 million pounds about five years ago. Now, they're down to just a million pounds.
Everyone's downsized. Schilperoort once grew asparagus on 20 of his 35 acres. Now he's down to about three acres, mostly to have enough for himself and a few friends.
Schilperoort takes his future in the field one day at a time.
"It's not the labor situation so much as what you get paid for your asparagus at the end of the day," he said. "The canneries have left, and you're dependent strictly on fresh market."
He should get about 20 boxes worth of asparagus per day, but even that's a decrease.
Schillperoort used to get nearly double that, a trend reflected in many of Central Washington's fields.