Senator Murray checks in with comprehensive anti-gang effort
Posted:
Updated: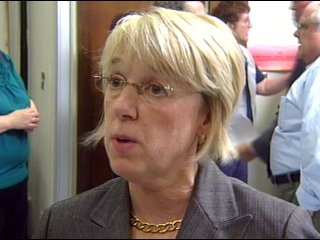 YAKIMA, Wash. -- Senator Patty Murray makes a stop in Yakima Thursday, checking in on the money she secured to combat Yakima Counties gang problem. She got $500,000 for a comprehensive anti-gang committee.
Currently, there are 44 Yakima County defendants facing homicide charges, many are the result of gang violence. The legal system can only do so much to fight the gang problem said Yakima County Prosecutor Jim Hagarty. Prosecutors and detectives are stretched thin.
"We are at the max of out ability to function on this," said Hagarty.

He's one of many involved in Yakima County's comprehensive anti-gang effort, prevention and intervention are also playing a large role.

"The unique approach of going to get them [gang members] I think this is the first time that you've seen this that some agencies are actually going to get them instead of waiting for them to come," said Dennis Turner, Building the Bridges.
It's this unique approach of suppression, prevention and intervention that has Senator Murray committed to continued funding.
"Realizing that the small amount of money that we get here in Yakima County is really making a difference is the backbone of this effort. It makes me know I can go back and fight for those dollars and get them again," said Murray.
Murray used the meeting as a way to check in with the effort and make sure the $500,000 is being put to good use.
The next step for the comprehensive anti-gang effort is to appoint a leader to coordinate all of the programs and make sure our legislators continue to fund the effort.