Organ donation awareness month
Posted:
Updated: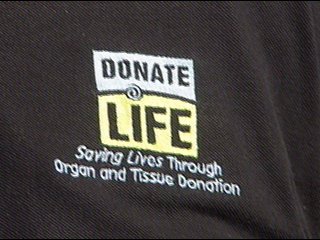 RICHLAND, Wash-- An emotional flag raising ceremony at Kadlec Medical Center. Flying high in the blue sky--a message promoting organ donation, something Jamie Peterson advocates. A fatal car accident late last year took her daughter Taylor.
"When the accident happened, I know that Taylor would've wanted to be organ donor. She'd actually said it before," Peterson recalls.
Peterson's push for organ donation dates back ten years when she lost her father. Today she knows her loss has helped other families move forward.
"It was the best way to honor her and the gifts that she gave, so that there are mothers that don't have to feel the pain that I went through losing my daughter," she says.
27 year-old Alicia Foss has been on the organ donor list for almost four years, waiting for a double lung transplant.
"It's been a long wait. It's definitely not easy," she says.
Foss can't stray far from the Tri-Cities just in case that cell phone rings with a possible match. And yet through it all, she knows she's here for a purpose.
"Life is not measured by the number of breaths we take, but by the moments that take our breath away," she says proudly.
If you'd like to learn more about organ donation, you can visit www.donatelifetoday.com. There, you can request special presentations on the benefits organ donation can have.