Committee for Downtown Yakima eliminates executive director position
Posted:
Updated: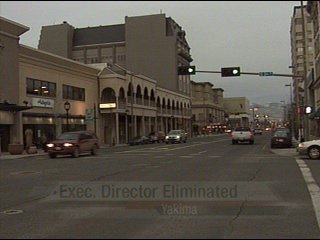 YAKIMA, Wash. – The Committee for Downtown Yakima announced Friday it is eliminating the executive director position because of budget concerns.
"It simply is an attempt to insure that the financial resources are being focused on the core initiatives," said Jamie Stickel, Executive Committee President.
Dan Kelleher has held that position since April 2009 and his last day was Thursday. He was informed of the decision by CDY's executive committee on Wednesday.
"They have to make judgements as to what is the best way to organize their staff," said Kelleher. "If they feel that's the best way to go then that is something I have to support."
Both Stickel and Kelleher pointed to the transformation of the historic "A" Street buildings site into a performance park and the contract for management of downtown parking lots as key achievements for the executive director in the past year.
The preventative move by the executive committee had a unanimous vote and Stickel says was necessary for them to get through the year.
Kelleher says he loved the job and believes Yakima has an excellent downtown for a city of its size.
Programs Administrator Jamie Lee Stickel will take on some of the responsibilities previously assigned to the executive director, including day-to-day operations. The rest of the position's requirements will be given to members of the volunteer executive committee.
The Committee For Downtown Yakima is a private, non-profit organization in charge of the daily management and promotion of Downtown Yakima.