Northwest Harvest needs help to keep it's services going
Posted:
Updated: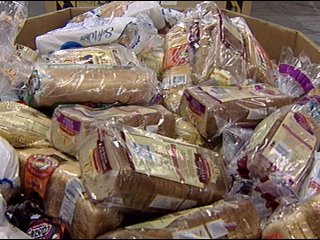 The effects of our down economy can be seen in many places. But nowhere is it clearer than the higher demand we're seeing at food banks.
"We're getting busier all the time...we don't know what to expect", says Colleen Morrison. "Last week we thought we weren't going to get done in the time we usually do. It was a lot busier this week than the week before. It just keeps growing."
Morrison is the director of Fairview 7th Day Adventist food pantry, one of the smaller food banks in town. They serve about 386 people a month. Their operation relies on Northwest Harvest to supply the food..which is no easy task at the moment.
"It's tight right now, as you saw some of the shelves are bare", explains Lisa Hall, the warehouse manager for Northwest Harvest. "The need has increased so we have to step up to keep up with the need".
That is easier said than done. Northwest Harvest supplies 40 food banks in nine counties. They do this with no government help. Everything Hall and the staff do is made possible by the goodwill of the public. And many food banks couldn't survive without them.
"We've had a relationship with Northwest Harvest for nine years, without them we couldn't do what we do. I just hope they keep receiving what they need", Morrison says.
We'll all have a chance to help them do just that. On April 24th KNDO is partnering with northwest harvest for our family food drive. We invite everyone to come out and help fight hunger.