Warriors want to be different from other Yakima pro sports teams
Posted:
Updated: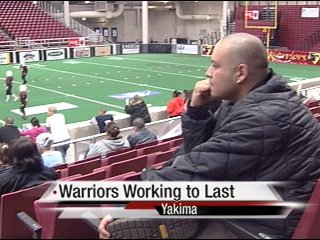 YAKIMA--The Yakima Valley is getting ready for some football, but can Yakima support a team?
New indoor football franchise Yakima Valley Warriors want to model themselves as a community-based organization, hoping that will encourage people to come to games and allow them to last, unlike the short-lived Yakima Shockwave or the defunct basketball Yakima Sun Kings teams.
The final score for the Warriors will probably depend on their spot in the standings.
Football fans got to the Yakima Sundome early Saturday to watch some pint-sized players take the field; a preview of Saturday night's home opener.
The Warriors tied tickets to these Grid Kids games to the big boys' battle with Wenatchee.
"The prices are a little steep," Melissa Saldana said. "But, I'm here because my son plays." Saldana plans to return for the Warriors game because "we already paid for it."
The warriors will need more than football moms and dads to be successful. Co-owner Michael Mink wants to see attendance average 3,500 fans, putting the team in line with other franchises in the American Indoor Football Association.
To get there, Mink teamed up with local groups like Grid Kids and Habitat for Humanity.
"We focused all our efforts to make this team a positive role model in the community," Mink said. "The bottom line is the fans have to come out and support you and the businesses have to support you."
The cheapest single-game ticket costs $12. Mink said the team's made package deals a bit cheaper.
People KNDO surveyed were split on how good those deals were, but season ticket holder Cody Brown believes he knows what people want to see.
"Just win," Brown said. "If they win people will come and watch, I think. If they come out and play hard and win and do good, people will show up to watch."
The Warriors have a one-year lease to play at the Sundome, with an option for future seasons.
This year may just be getting started, but Mink is already working on scheduling for the 2011 season.
The Warriors expects a crowd of about 3,000 for Saturday night's game, a little more than half of the Sundome's capacity.
KNDO will have highlights of the game tonight at 11.