Development in Kittitas County stalled by freeze on well
Posted:
Updated: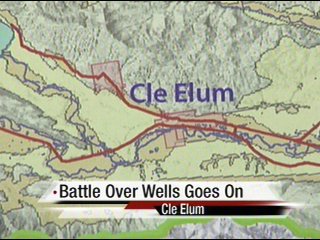 CLE ELUM--A lack of snow has forecasters thinking we might face water shortages this year, but in Kittitas County developers are dealing with a drought ordered by the Department of Ecology.
Kittitas County Commissioners sent a letter to Governor Chris Gregoire on March 30, asking her to repeal Ecology's emergency ruling that stopped people from drilling new groundwater wells.
She's sided with the department since Ecology issued the ruling in July. Meanwhile, development in the county has dried up.
To drill a well, you must have a water right, something in hot demand in the upper county.
Since 1998, nearly 3,000 new wells popped up in and around Cle Elum.
With that pace, the Department of Ecology projected water shortages in the near future.
Regional Director Tom Tebb say a freeze on construction of new wells is necessary.
" So we're trying to build that future, a sustainable future where those water supplies are sustainable and are reliable and wouldn't be interrupted during times of drought."
County Commissioner Alan Crankovich agrees change is needed, but said the freeze isn't.
"This is not an acceptable level of collateral damage to accomplish an agency goal," Crankovich said. "This [ruling] has crippled our economy."
And here's why, Crankovich said lack of wells means lack of new homes, which has meant lack of jobs. Kittitas County's unemployment rate was 10.3 percent in January, a two-point jump since the July ruling.
"With the downturn in the housing industry, that was difficult as it was, but this has just compounded it to where, where people are literally facing foreclosure, businesses are closing. There's been many jobs lost."
Ecology wants to create a water bank, a program where people can buy or sell existing water rights without creating a larger drain on a limited resource.
Tebb said there's more than fifty proposals to build new homes with old water rights.
"It provides for growth and development to occur provided that that development is fully mitigated."
Ecology and the county continue negotiating for a new deal, but right now none appears close.
This isn't just a Kittitas County issue though. Commissioners from Yakima, Benton and Franklin county have been following the developments, even traveling to Kittitas to attend hearings.
What happens there could affect drilling of new wells throughout Eastern Washington.