Peacocks ruffling feathers in Hermiston
Posted:
Updated: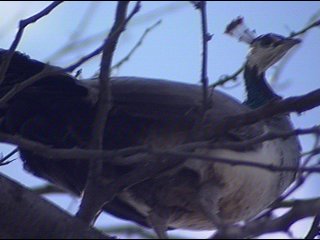 HERMISTON, Ore.-- Imagine your neighbor picks up and moves out of town. Left behind are more than a dozen peacocks. Now they are going into your yard, leaving droppings everywhere and damaging your property. Sounds bad, but imagine if no one can help you solve the problem.
Well that's the case down in Hermiston.
"I've been everywhere talked with everybody," says Ed Blade, 63. "Nobody does anything."
Fourteen peacocks, all left alone after their owner left six weeks ago. Now they're going into his yard, destroying his property and defecating on his yard.
Each day Blade and his wife have to clean up after the birds, and they can't get any help; the county says they don't have the jurisdiction to clip their wings.
"If you go to a zoo and see a peacock you never associate a peacock with doing something like this," he says. "I mean they're just a destructive bird."
They live in their own filth and spend most of their time in the trees. But the biggest problem now is they're starting to starve to death.
"I would like somebody to capture them," he says. "Put them in a bird farm or do something with them. I don't want to seem all shot."
But that's the advice he's getting from the sheriff's office. But Blade won't kill them, so for now he waits and tries to stay in fine feather.
"They're all over, they get into everything," he says. "And they will completely come in and destroy a patio in no time by defecating all over it and scatter food, tear things apart, get caught in the planters and they get dirt all over the ground."
The Umatilla County Sheriff told KNDU today they can't do anything because the peacock is an exotic bird, but not endangered, so they're aren't any regulations to follow.