The 5-minute Rule: Kennewick Lion Soccer
Posted:
Updated: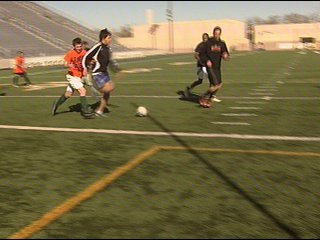 Kennewick, WA--
Every coach has a way to motivate his team. I'm sure we all could think of various ways to encourage a group of players to perform at a high level. One local team lives by one rule to put goals on the board, and W's in the win column.
It's called the five minute rule.
Head soccer coach at Kennewick High School Dwight Brayton said, "The equivalent of saying charge in a cavalry. You know nobody practices charge in a cavalry, but everybody knows what it means."
The Kennewick boy's soccer team shouts it out whenever a goal is scored. To motivate the Lions to tally another one, or respond to an opponents goal within five minutes.
Junior Forward and Mid Fielder said, "With the five minute rule... We need to score as quickly as possible. Hit them when it hurts the most... When they're down."
KNDU Local Sports reporter Joe Gorchow, "Is it really motivating when coach says five minute rule. Be honest... Does it really change the way you play?"
Senior Captain of the 4-2 Lions, Andres Rojo said, "It does. It gives us more energy to score another goal."
Here at KNDU we did not buy the whole energy part. You know what provides energy, candy.
Joe Gorchow asked: "Don't you think a chocolate bar would be more motivating for you guys to score another goal in a five minute span."
Andres Rojo responded: "Kind of. Yeah."
Joe Gorchow then replied: "You want this chocolate bar don't you."
Andres Rojo said: "Yeah I do."
So with the captain of the team on board, we put the candy five minute rule to the test.
Here's is how it played out:
Kennewick Soccer Team: "Five minutes. Five minutes"
Joe: "Wrong team scored though. Five minute rule still works though... Five minute rule... Coach told me it does. They can score guys. Does that mean I have to play defense. Ahhh man."
Kennewick Soccer Team: "YEAH!!!"
Despite Joe's disappointment, the Lions seemed eager to gobble up the chocolate reward. Possibly inspiring the team's first league title since 1990.