Selah man arrested for death threats against Senator Murray
Posted:
Updated: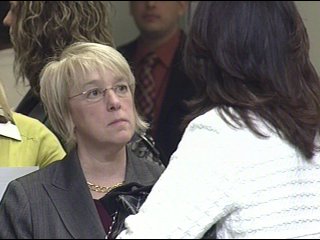 SELAH, Wash -- Federal investigators arrest a Selah man who they believe threatened US Senator Patty Murray. Investigators say the death threats came from a home phone that they traced to a Selah home.
The suspect is a 64-year-old Selah resident, Charles Alan Wilson. Neighbors say he was quite and kept to himself but, threatening phone calls may tell a different story.
"I know he has a temper but, I haven't seen it in years," said Rene Fiedler, Wilson's neighbor.
"Normally it's pretty quite and I thought everyone around here were fairly decent law abiding people," said Robert Crawford, who lives a few houses away.
Debate over health care reform is fierce but, federal investigators say one Wilson took it too far by calling Murray's office with threats. In a release investigators allege Wilson said that Murray "had a target on her back," also stating, "I want to (explicit) kill you."
Senator Murray was in Yakima just last week.
"What I love about a democracy is that everyone can have a voice and let their views be known and speak their passions," said Murray, (D) Washington State.
Murray's office reported the threats, spanning from March 22nd to April 4th and investigators tracked the calls to Wilson's home phone. Investigators say Wilson discussed a plot to kill the Senator, all over the recent passage of the Health Care Reform Act.
"I don't understand people getting that excited over that," said Crawford.
Neighbors say Wilson lived alone but, has several grown children. If convicted he could face up to 10 years in prison and a $250,000 fine.
Wilson waived his preliminary appearance in court Tuesday, he's being held at the Yakima County Jail until his bail hearing, which is scheduled for Friday at 9:00 a.m.