Home invasion in Kennewick
Posted:
Updated: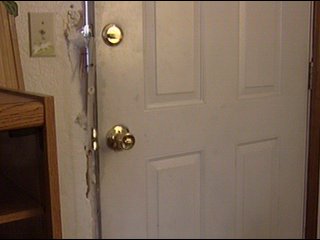 KENNEWICK, Wash-- A home invasion in Kennewick leaves one woman terrified.
"I heard this loud noise and my dogs started barking and I thought 'what's that?' and pretty soon I heard someone break into my bedroom door," explains the victim, who does not want to be identified.

Two men broke into her home on West 14th Avenue around 4 a.m. Wednesday morning. She says the suspects got away with cash, computers, DVD players and her minivan.
It's believed one of the suspects was carrying a metal pipe. The victim says she tried to fight back, and that's when it turned even more violent.

"He calls for another guy and the other guy came in and he had a gun and he me to put a pillow over my head, so I did that, and he put the gun up to my head," she explains.

Nobody was seriously hurt. Police say right now it all appears random.

"At this time we don't have any information that the victim was a target," says officer Isaac Merkl with the Kennewick Police Department.

The suspects are described as men with a slender build, between 18 and 20 years old and average height. It's still not clear who these men are.
Police are hoping the stolen minivan will help lead them to the suspects. The 1996 Dodge Caravan has a WA license plate number of 577-TSN. If you have any information, call police immediately.