The Harmon Center receives a technology upgrade
Posted:
Updated: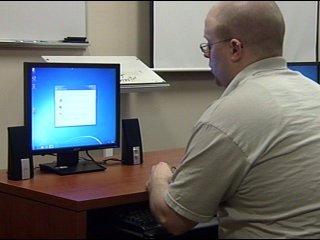 YAKIMA, Wash. -- A generous donation is opening up a world of opportunity for Yakima seniors, the World Wide Web to be exact.
It's a place to socialize and a place to learn. The Harman Center is used by more than 200 seniors a day, they offer art courses, health classes and more. Computer classes are some of the most popular, sometimes there's even a wait list. And what do most seniors want to learn? E-mail, to keep in touch with family and friends.
"Our computer lab was about seven years old. The equipment in there was pretty ancient by today's standards and with the budget we weren't going to be able to replace them," said Traci Bennett, recreation supervisor, Yakima Parks and Recreation.
That's until a $25,000 donation from the Harman Foundation. Now, ten new computers are being installed, which for instructor Sandra Coats is beyond words.
"Oh gosh, how can you say, it's just super. It's what allows us to keep this room going," said Coats.
According to the 2009 census, 63 percent of senior households have a computer and use the Internet.
"I think it's a little intimidating to some, but since we are trying to reach out to baby boomers it's been a great opportunity for us to get people into the center that might not have otherwise have come here," said Bennett.
Classes are offered for Word Processor, Excel, Internet use and more. Sandra uses the computer to keep in contact with her family back East, "and with people all over the world I play card games on there, which are interactive with other human beings and I've played with people in Europe, Australia and Africa, it's really neat," said Coats.
If you're interested in the computer courses at the Harman Center contact the front desk.