Domestic Violence felon employed at Grandview School District
Posted:
Updated: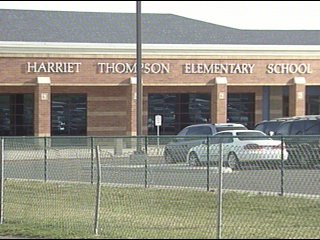 **********************************Update***********************************
Tonight at 7pm the Grandview School Board will be holding its regular meeting. Maggie Pezzullo plans to address her concerns with the board. Members of the community are, as always, welcome to attend and speak during the "public comments" portion of the meeting.
***************************************************************************
Yakima, WASH--Kendra Ott is a Class B felon. She was sentenced to six months in jail. She at one point had a no-contact order for her own child. She is also an employee at the Grandview School District...and there's nothing illegal about it.
Maggie Pezzullo, a parent of two Grandview School District children, was stunned when she found out.
"I just couldn't believe it, it was unbelievable that somebody who had done that was working at our school district", Pezzullo says.
Ott was charged with second-degree assault domestic violence, and second-degree assault of a child-domestic violence. She took a plea deal for the second-degree assault domestic violence charge. The police report says that she hit a child in the back with the end of a belt. He had to be airlifted to Harborview Medical Center in Seattle. The child was her four-year-old son. Kendra Ott now works in clerical positions for Grandview Schools.
I asked Grandview School District Superintendent Kevin Chase why someone with this background would be hired at a school. He provided a statement saying "Ms. Ott, made full disclosure of her background…during the interview process…the interview team was unanimous in its recommendation to offer employment to ms. Ott, who was the most qualified candidate of all of those interviewed for the position. We believe in giving people a second chance. " The full statement is below.
"She does deserve a 2ND chance, and she can go work at the police department and the fire station, anywhere in the community, but she does not deserve a second chance with my kid's lives", Pezzullo responded. Pezzullo went on to praise Grandview Schools, saying she does not blame the actual schools or their staff for this. She believes the parties at fault are the superintendent and the school board who hired Ott and allowed her to maintain her employment.
Superintendent Chase pointed out many times, that the district isn't breaking any laws by hiring Ott.
There are two types of employees at the school district. Certified and classified. Certified employees like teachers cannot have felonies on their records at the time they are hired. But classified ones like custodians and secretaries can. The logic being that certified employees work closely with students, while classified ones don't…at least they're not supposed to. When I first talked to Superintendent Chase, he told me that because of a parent complaint, Ott has not had contact with students in about a month. Pezzullo says otherwise.
"She was seen with a child April Sixth at 4:45pm escorting that child from the bus garage to Harriet Thompson elementary. She was alone with that child".
Today the superintendent verified that Ott did in fact escort the student on that day.
Whether or not Kendra Ott does still have contact with children, the fact is it is not against the law for her to be working with children. But some are asking if given her history she should ever have been hired in the first place.
We did go to the Grandview School District before running this story and ask Ott and her mother to comment. Rachel Ott is the superintendent's secretary and Kendra Ott's mother. She declined to comment on camera or give an official statement. She did however say that she feels this is being made an issue by people out to hurt her daughter. According to Rachel Ott, Kendra Ott is in a child custody battle, and attacks on her are coming from her children's father's family. Kendra Ott did not respond to request for comments.
---------------Here is the complete text of the superintendent's statement----------------------
4/8/2010
Re: Statement Regarding Selection and Hiring of Classified Staff
The Grandview School District has established a thorough employment application process to ensure that we hire the most qualified, best trained, and most skillful people. The pre-employment and application process that the district has established for each position in the district includes: completing a written application for each position, Criminal Disclosure form, Pre Employment Character and Fitness Supplement, Employment Disclosure Statement, Affirmative Action Statement, pre-screening of applicants for each position, in person interviews with a group of district staff, reference checks, and thorough criminal background check for every employee prior to being hired. This includes Administrators, Teachers, Secretaries, Para Professionals, Cooks, Custodians, Coaches, Maintenance and Transportation employees.
As part of the hiring process, an interview team meets with each qualified candidate with a list of job specific questions and performance tests to establish their skill and abilities for the position. Prior to the final hiring process, reference checks are completed and any criminal disclosure in the pre-employment application process is thoroughly researched by the district.
In the matter concerning Ms. Ott, she made full disclosure of her background and the steps she has taken to rebuild her life during the interview process. Ms. Ott was one candidate in a pool of candidates for her current position. The interview team was unanimous in its recommendation to offer employment to Ms. Ott, who was the most qualified candidate of all of those interviewed for the position.
No laws have been violated in any action the district has taken. When we hired Ms Ott, in the district's professional judgment, we believed she would be a good employee for the district and her performance has proven us correct. No concerns from anyone have been brought to the district about her job performance or conduct on the job at anytime.
Since hiring Ms. Ott in September, she has performed her duties flawlessly and each of her supervisors has commented on her great skills, abilities, work ethic, and technical skills. She is a great, hard working employee who takes great pride in her work.
Grandview School District is in the people business. We believe in giving people a second chance. This philosophy is reflected in the way that we treat students, and in the way that we treat our employees.
Sincerely,
Kevin Chase
Superintendent