Needy families benefit from food banks
Posted:
Updated: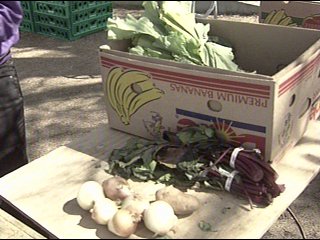 YAKIMA--KNDO's spring food drive is only two weeks away, and we're working to help collect food for needy people in Yakima County.
They come to the Yakima Food Bank on South 7th Street every Friday: people in need. Big and small. Searching for something to eat.
"It helps us with what we can't afford to buy with the money we make at work," Maria Lopez, who lives in Wapato. "We get bread, food and beans."
Lopez has three kids and tries to come to the food bank weekly, but sometimes she can't even afford the gas to drive here.
"Back when the economy was better, I would have never thought I'd be coming to a food bank," Lopez said. "But ever since [times got tough], I've been coming."
She's not alone. The Yakima Food Bank helped 300 families each week.
They have a different menu than your average food bank, like pineapples and other fresh fruits and vegetables.
"We are really pleased," Josefina Martinez said. "They give us food here that other [banks] don't have."
Martinez was in luck Friday. A milk truck crashed in the Lower Valley, and the grocery store didn't want the scuffed-up product. So, they donated all the milk--hundreds of gallons--to area food banks.
It may not be nice enough to buy, but it's good enough to drink.
"It's a good feeling to be able to help people. You go home tired, but you feel like you've done something very worthwhile."
At KNDO we're helping out too. Our family food drive is in two weeks on Saturday, April 24th. Come down, donate some food or money and help needy people in our area.