Spc. James Miller laid to rest
Posted:
Updated: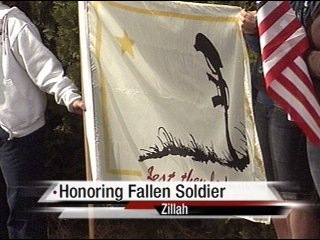 ZILLAH--A local soldier killed in action during Operation Enduring Freedom is laid to rest.
For one day at least, Zillah changed its colors from black and orange to red, white and blue.
The outpouring of support was for Specialist James Miller. He was killed in action March 29 in Dashat, Afghanistan.
"I thought it was my patriotic duty to come down here and show respect for a fallen soldier who gave his life for this country," Betty Ramerman said.
Hundreds of flags flapped in the wind outside Nazarene Church for Miller, the first Yakima Valley soldier killed in the conflict in Afghanistan.
The 21-year-old leaves behind his wife, parents and one-year-old daughter, Peyton.
"They're grieving right now and they need support," Herbert Horn said. "They need to know that their son didn't die for nothing."
The support was hard to miss. Mourners waving flags lined the streets outside the Zillah Cemetery, both to honor Miller and potentially protect his family.
Members of the controversial Westboro Baptist Church announced earlier this week they would picket Saturday's proceedings. That news brought the Patriot Guard to the Lower Valley.
"They started showing up and protesting at military funerals," Larry Griffith, who has attended more than 100 military funerals as part of the Patriot Guard. "There's just no way that that kind of action can be tolerated."
But, as the day went on, no protesters showed up. Just more Stars and Stripes, letting James Miller's loved ones know that the people present think Miller is a hero.
Miller was promoted from Private First Class to Specialist after his death.
On Wednesday, April 14, he will be honored with a full military service at Fort Lewis in Tacoma.