Three injured in drive-by shooting in Sunnyside
Posted:
Updated: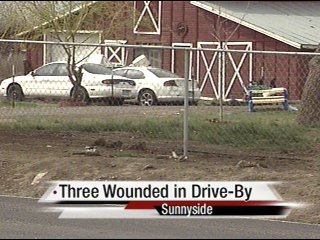 SUNNYSIDE--A drive-by shooting in Sunnyside sends three to the hospital.
Sgt. John Durand with the Yakima County Sheriff's Office said the victims were driving south down Waneta Road around 11:30 p.m. Saturday.
Near Hollis Lane, a dark-colored sports utility vehicle pulled up alongside the victim's car and people started shooting.
Three people were hit. The 33-year-old male driver was shot in the face, a 23-year-old man was hit once in the arm, and 24-year-old Crystal Navarro of Sunnyside was shot four times in the stomach.
She was rushed to Sunnyside Community Hospital for emergency surgery. KNDO reporter Nick Paradise talked to Navarro's father Sunday morning.
He said Navarro was hit by shotgun blasts, but added that Crystal was lucky: all the bullets missed her vital organs. Sheriff's deputies would only confirm finding casings from a handgun at the scene.
"It was a terrible feeling when I got that phone call [from the police] last night," David Navarro said. "Honestly I can't compare it to anything [I've experienced.] I'm just glad she's okay right now."
Adrian Alvarez grew up on Waneta Road, across the street from the Navarro residence. He lives in Everett now, and said his old neighborhood has changed.
"I'm just shocked," Alvarez said. "All the shootings going on, I'm just like, wow. It never used to be like this."
Navarro said his daughter is doing alright. Sheriff's deputies would not say what condition the other victims are in, only that their injuries should not be life-threatening.
Deputies didn't release much information regarding possible suspects. They are looking for a dark colored SUV that might be a Cadillac Escalade. Although they say the victims have gang ties, they are not yet confirming the shooting as gang-related.
If you have any information that could aid police, call the Yakima County Sheriff's Office at 509-574-2500.