New scam has criminals posing as federal agents
Posted:
Updated: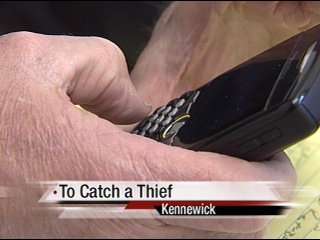 KENNEWICK, Wash.-- We have a new scam to warn you about with a really interesting twist-- it involves people posing as federal agents.
A woman in Benton City got convinced someone calling her could give her a better deal on mail order prescription drugs, she sent a money order to the Dominican Republic. That's the first scam.
But then she gets a call from a man allegedly posing as a federal agent saying he's going to arrest her for drug trafficking if she doesn't pay a fine. That's the other scam.
But the woman has a friend with the Kennewick Police. So playing the part of country bumpkin, we catch these guys in the act.
It's not unusual for police to try out their acting chops. Sgt. Jack Simington is going undercover posing as the woman's husband.
With an east coast accent, the suspect says he's with U.S. Customs and wants a fee paid by Western Union.
We string him along telling him we've sent the money already. But when he realizes he hasn't received it, the Sergeant tells him the jig is up.
"If they took the amount of time and effort that they put into being a bad guy and put it into something positive," says Crime Prevention Officer, Mike Blatman, "Just think about the creative things they could do."
Impossible to trace and even harder to extradite, Kennewick Police know they won't catch the scammer. But they say their time isn't wasted.
"Because this guy was spending time trying to reign 300 dollars out of us," he says. "He wasn't bilking someone else."
These alleged scammers have addresses from Queens, New York as well as the Dominican. But police stress con artists could be in the Tri-Cities as well. Their advice, follow the cliches; if it's too good to be true, it probably is, and never give out personal information to someone you don't know.