WSDOT shares SR-410 options with Nile Valley residents
Posted:
Updated: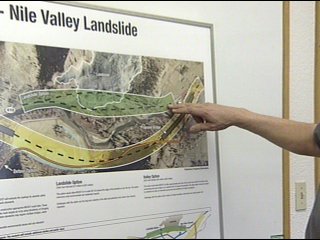 NILE VALLEY, Wash. -- The Department of Transportation has unveiled several options for the permanent State Route-410 replacement.
Just sixth months ago people in the Nile Valley watched the earth fall on SR-410, they were cut off. But, hope was restored as crews quickly worked to build a temporary access road.
"I think they rocked, you know they cared," said Kimberly Jensen, Nile Valley resident.

"And I think just a really warm reception on the part of the community for what they've accomplished so far," said Gregg Hires, administrator, Bethal Ridge Family Resource Center.
Now, the land has settled. It's time to discuss a more permanent state highway. One of the issues with making Nile Loop Road the permanent SR-410 are the curves, in order to make it a state highway DOT crews would have to straighten it in order to up the speed limit to 50 mph.
"Flattening curves and buying right away's and homes and everything it could cost up to 50 million dollars so it may not be the least cost option to use the Nile road," said Don Whitehouse, Washington State Department of Transportation.
It's also not the preferred plan of Nile Valley residents. Whitehouse said they'd like to see the highway as close to the original as possible. There are three factors the DOT must consider, environmental impact, social impact and cost, which has them favoring one of the four options.
"We do believe that one of the lower cost is to build around the toe of the slide, which is actually what the geo-techs are saying that we should be able to do that. We have a range there of 15-20 million dollars," said Whitehouse.
More than 150 people attended last nights informational meeting. DOT leaders plan to keep the community involved as they work towards the permanent highway. Crews could break ground in early 2012.