Three arrested in drive-by shooting
Posted:
Updated: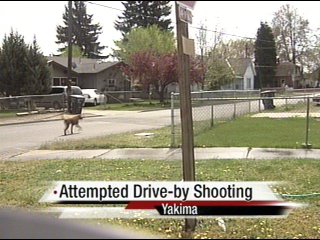 YAKIMA--Police say the color of someone's clothes made them a target in a Saturday evening drive-by shooting.
Yakima police were sent to the intersection of Union Street and Chestnut Avenue around 7:00 p.m. Saturday.
Witnesses told officers a white Honda pulled up along a person wearing blue, and someone inside the car shot at him.
Police found the suspect car within minutes and arrested 23-year-old Uriel Cardenas, 19-year-old Erick Olivera, and a 17-year-old male.
Officers found a shotgun, pistol, beer and marijuana in the car. All three suspects are believed to be gang members.
Police are glad they were nearby when the shooting occurred.
"If we're not in the area immediately after the shooting, chances are that the suspects are going to have a chance to get to a location, hide their vehicle, hide their weapons, change their clothing, change their appearances," Sgt. Mike Henne, Yakima Police Department, said. "Then, they just disappear into the night."
Henne stated in his report that one suspect admitted to shooting at the victim. The suspect told officers he wasn't sure why he did it, but that it might have been because he was bored and didn't have a job. Sunday, all three suspects are in jail and will face assault charges tomorrow.
Officers never found the victim. They don't know if he was injured.