Local bikers fight against child abuse
Posted:
Updated: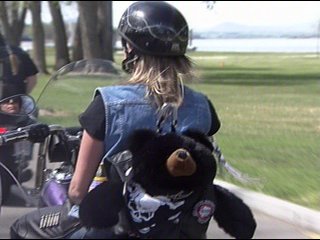 KENNEWICK, Wash.-- As part of April's Child Abuse Prevention and Awareness month, a local group is trying to help in their own unique way. They're Bikers Against Child Abuse; after being a part of different chapters on the west side of Washington, a half dozen bikers in the Tri-Cities are trying to start their own chapter of B.A.C.A.
B.A.C.A is an international organization taking in victims of child abuse, bringing them into their group and empowering them to testify in court.
"Some kids don't have a problem going into court and testifying," says a biker named "Bum." They hide their real names if abusers ever try and find them. "The ones that are afraid of doing that our whole chapter will go into court and sit there with them and they see us."
And some in the group have been personally touched by child abuse.
"My daughter's perpetrator, he didn't do any prison time," says "Lola." "He got three months in county and he has to register as a sex offender and I heard about B.A.C.A. after the fact. And I believe if I had known about B.A.C.A., he would be in prison."
Their hope is local child services will soon partner them with victims and let them know they have support.
"We let them know that it took a lot of courage for them to tell somebody what was going on," says "Wildfire." "[We tell them] that they are brave and that we believe you."
For more information on B.A.C.A. Columbia Basin Chapter:
call 509-308-4236
email torch@bacatri.com