I-82 Project creates 140 jobs and reduces traffic congestion
Posted:
Updated: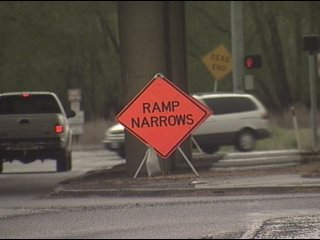 YAKIMA, Wash.- Department of Transportation crews are working on one of the state's largest recovery act projects to reduce congestion on I-82.
Department of Transportation and state leaders broke ground for the I-82 Yakima Interchange project. It's part of the federal Recovery and Reinvestment Act, providing 140 local people work.
Transportation leaders believe the updates will make a big difference.
"It will smooth out using roundabouts, which are a real safety asset to this area, it will be much smoother, traffic will flow, people wont be delayed at lights," said Paula Hammond the Secretary of Transportation.
Thousands of people drive down Interstate 82 everyday. Many are trucks, shipping products to and from the Yakima Valley. With business, comes congestion and dangerous road conditions.
"Frustrating cause car try to jump in front of big trucks right there when you're getting off and they try to scoot around, in front of big trucks," said Gary Goosby, a truck driver.
Coming into Yakima and Union Gap from I-82, truck drivers say it's confusing and hard to get around safely. The new plans will add more ramps and bridges allowing more space and time to merge. It will also mean less traffic on Valley Mall Boulevard.
"If trucks can get off easier, probably see more business from trucks but the thing I think is important is there'll be less accidents," said Goosby.
Project engineers say during construction you can expect detour routes and several changes to the highway.
Project engineers remind drivers to expect delays and pay extra attention to road signs.