Playing With Laughter: The Kevin Heard Story
Posted:
Updated: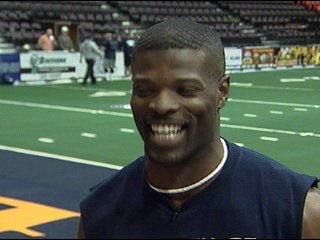 Kennewick, WA--
A 1-4 to the season, is something the Fever did not expect. Sometimes taking on the personality of one your players can right the ship.
They say laughter is the best medicine for what ails you.
Brandon Copeland: "Break on me. Break on me."
Kevin Heard: Laughing. "Somebody... Gonna get knocked out today."
Well for the Tri Cities Fever, look no further than Wide Receiver Kevin Heard. An Arena and Indoor Football Veteran, whose been playing the game since 2001.
Heard said, "Laughter is the cure for everything so. Really don't take anything to seriously. I've always liked to have fun. I like to make people laugh.">
Although sometimes he makes the jokes, his age puts him on the receiving end of others. He is 34.

Andy Collins the Fever starting quarterback said, "He brings experience you know. We sometimes we might joke and call him Grandpa once in awhile."

Heard added, "They call me 19. Short for 1990. Cause that's where I'm from. There like... All the music I listen too, everything I do is kind of old school to these guys."
Well maybe they should follow grandpa's lead considering the Fever 1-4. Heard has won three championships as an arena and indoor football player. Including one with the Fever in 2005.
Heard said, "I'm pretty intense during the game. Cause I want the ball. I want to win. I want to do everything in my power to help the team win."
This season he only has 8 receptions for 95 yards and one TD. Yet that doesn't seem to bother him much.
Heard while singing, "I ain't as good as I once was. That's my old man song right there. Cause I aint as good as I once was... But I'm good once as I ever was. That's my theme."