High school students learn law from Court Commissioner
Posted:
Updated: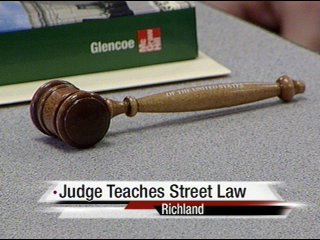 RICHLAND, Wash.-- One Benton County Court Commissioner volunteers her time to teach high school students about law. Commissioner Jerri Potts is helping River's Edge High School students learn more than just what's in the textbook. She visits them one time every week to teach the students about street law.
Commissioner Potts says, "They have a huge basic understanding of the law and the constitution, and this is just an extension of that and is a practical application." Students read out of a textbook, learn vocabulary, then meet with Judge Potts to discuss it, talk about how it translates into real life, and often act out certain scenarios.
It's during that meeting where Mary Lambel, senior at River's Edge, says she really learns the material. Lambel explains, "It's a lot better, I've never been really a big text book person. I've always been a hands-on learner."
Also, the students would much rather learn about law from Commissioner Potts, not their teachers. "To have not just her knowledge, but her experience; not just how things are supposed to go, but how it actually works," says junior Nala Watters.
This year, the 2009-2010 school year, is the first year Potts has visited the school on a weekly basis. She's covered topics ranging from family law, custody, paternity suits, wills, divorce, search and seizure, etc.
Potts says she loves doing this and plans to come back next year. She says, "It also gives me a format to get on my soapbox about being safe in the community, being responsible in the community, and being responsible to themselves."