Reality TV star visits Yakima, hosts screening in "Ruby Town USA"
Posted:
Updated: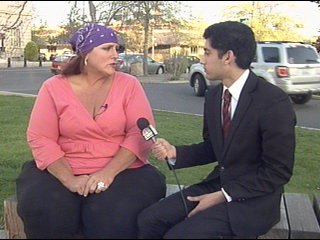 YAKIMA, Wash. – Reality TV star Ruby Gettinger arrived in Yakima Thursday night after the city was named "Ruby Town USA" in a national contest hosted by the Style Network, beating her hometown of Savannah, GA.
KNDO-TV spoke with Gettinger at Millennium Plaza as she met with fans in downtown.
"I love it, everybody is so nice, I met some great people," she said. "I met the mayor and he is so cute and so sweet."
Gettinger says she was monitoring the online votes and noticed that once Yakima took first place in the contest it never left the top spot. She isn't sure why the show so popular in this area but says there is a universal appeal across the country.
"I have no idea to be honest but I know why a lot of people are connecting with me," said Gettinger. "It's the truth, it's a real journey and I am telling my truth and then the emails, even people from [Yakima], that emailed me saying they're trying to get me to come here."
"Ruby" ends its third season in May but the Style Network has brought the episode to Yakima for a private screening for fans of the show. Gettinger believes the program's message speaks to people facing many different challenges besides weight loss.
"It's not only about obesity," she said. "It's about people fighting any kind of addiction and going after any kind of dream."
The screening of the season finale will be at The Majestic Theatre in Union Gap at 7:00 p.m. on Friday. Admission is on a first come, first serve basis and those who voted and registered with the show have been given priority. Gettinger says she hopes people unable to attend the screening will still come to the event though so she can greet them.
"I love y'all and tell everybody to come no matter what, even if you can't get in, I'll be outside before, outside after," she said. "I want to hug everybody, I want to hug their necks and tell them thank you."