First time home buyer's tax credit deadline
Posted:
Updated: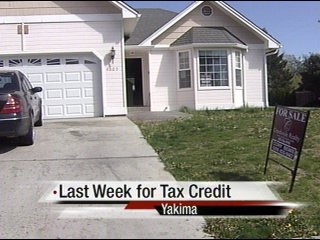 YAKIMA--The first-time home buyer's tax credit can take $8,000 off the price of a new home, but only for one more week.
Holes in the doors. Stains on the carpet. The people who used to own this house on the corner of 48th Avenue and Modesto Way did their best to decrease its value before the bank foreclosed on them and kicked them out.
Davi and Kate Baer were only window shopping--until this home.
"This was just too good," Kate Baer said. "We had to move from looking to buying way quicker."
They first saw the house on a Friday, made an offer the following Monday, and locked it up for $189,000 about a month ago.
The promise of an $8,000 tax credit, only available for another week, convinced the Baers to become buyers.
"We can use that $8,000 to help us redo the floors," Kate said. "We can buy the materials and do the labor ourselves."
That eight grand pushed a lot of people into the market, mainly for homes costing $250,000 or less.
According to the Yakima multiple listing service, prospective buyers have reached agreements on 53 home sales in April and nearly 250 in 2010, both strong improvements over last's years figures.
"Those buyers really got going with things and figured everything out and have been purchasing homes," Creekside Realty Realtor Cory Bemis said. "So it did speed up that market."
Yakima hasn't struggled like many other areas around the United States, but Bemis said the tax credit has played a part in increasing the average home sale price here locally, along with decreasing the amount of time a home is on the market.
One area the tax credit hasn't had an impact on is more pricey homes, but realtors and government alike hope business on less expensive houses has a trickle-up effect and gets the entire market moving.