PNNL craft career day
Posted:
Updated: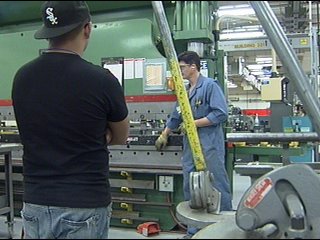 RICHLAND, Wash. -- It's an experience students can't get in the classroom. Friday, dozens of teens from high schools as far away as Dayton toured the PNNL workshop to learn about skilled labor.
It was about hands on education; learning straight from the craftspeople. They taught kids about skilled labor and even showed them how to make things out of sheet metal.
For some students, it helped them narrow down what field they may go into. Brittany Green, a senior at Kamiakin High School knew what kind of work fits her lifestyle. She describes herself as a "hands-on" person.
PNNL's skilled labor workshop helped her better understand what's waiting for her down the road.
Brittany said, "I wanted to look into the sheet metal because after I graduate in June, I want to go into an apprenticeship through the sheet metal or pipe fitter."
Tech students from local high schools got an inside look at some of the most advanced tools used in the trade.
"You have the carpenters, the welders, machinists, and the sheet metal shop. All of them come together to create products, whatever we need for research, and keep the facility running. We can call it the one stop shop," said Pete Rojas, with PNNL.
For students, that is the perfect learning tool. "I really learned a lot more than I thought I would about the other unions, like the electricians, carpenters. They're all a lot different than I thought they were," recalled Brittany.
One of the best tools the students walked away with is contacts in their preferred field; leaders with PNNL say they could come in handy.