Ki-Be students take Grape Growing 101
Posted:
Updated: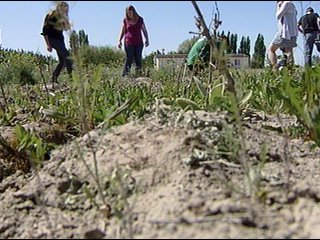 BENTON CITY, Wash.-- This isn't science or math class; it's something completely different. A vineyard in the back of Kiona Benton High School where high school students are learning how to make wine grapes.
"You cut off a piece of a grape vine," says junior Josh Harding. "Then you plant it in the ground and a few days later it starts sprouting roots and few weeks and months later you get a grape."
The first harvest won't be until the fall, reason enough for junior Nikki Kearns to sign up for the class next year.
"I thought it was going to be boring," says the junior. "Normally when you hear horticulture you're thinking you're going to be planting a whole bunch of plants. But you learn a lot about how to take care of the plants and how long it takes for them to produce and it turned out that I really liked it and I'm going to do it next year."
Soon the school hopes to let the students earn college credit for their work in the vineyard. For some the class has turned into a passion; one they hope to study even after high school.
"I really want to go to Paris," says senior, Shelden Brock. "Because it's the wine capital of the world and it'd be a perfect place to study come back here and have my own vineyards."
And if the idea of a whole bunch of high school kids making wine sounds a little odd-- the grapes aren't being used for wine, they're going to turn them into grape juice.