Donations are down at the Red Cross, but more need help
Posted:
Updated: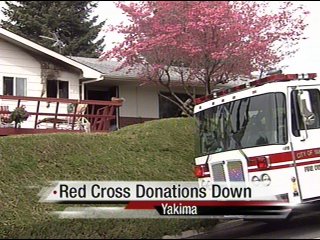 YAKIMA--A fire in Yakima displaces two people, and the Red Cross comes to their aid. But, our local Red Cross chapter needs as much help as it gives out.
Our local Red Cross chapter is in a tight spot.
The Red Cross is totally dependent on donations; they do not get any government money.
A fire starts in a bathroom at a home on 35th Avenue Monday morning. Firefighters blamed an improperly disposed cigarette for the fire, which they say did about $50,000 worth of damage.
Firefighters say it could have been much worse. Unfortunately, it's bad enough that the elderly couple who lives there has to sleep somewhere else for at least one night.
"Family's going to have to relocate until they can make repairs," Battalion Chief Tom Sevigny, Yakima Fire Department, said. "There's significant damage. There's damage to the wiring in the attic."
Here's where the Red Cross comes in, providing for the very basics. A toothbrush. Clean clothes. A motel room for a few nights. But, providing those basics gets harder every year.
"We're kind of in between the okay and the real dire need," volunteer Cody Tusler said. "We've got some gaps we need to figure out how to fill."
This year, donations are way down. Last year, Red Cross got almost $250,000 in donations. Through nearly four months of 2010, they've collected only about $40,000.
People in Yakima donated $63,000 to the Red Cross's efforts in Haiti.
"Those funds go directly to national," Tusler said. "They don't stay in our community."
He worries the earthquake relief may keep some from giving to local causes.
Meanwhile, cases are up. Red Cross responded to 114 emergencies in 2009, 30 more than the year before.
So far in 2010 they've helped 46 families, pointing to another increase of 20-30 cases.
More than ever, Red Cross volunteers ask clients to stay with friends or family or shop at secondhand stores, so the next time disaster hits, there's enough money to go around.
If you would like to donate to the Red Cross, you may contact them at 509-457-1690.