Dozens of Yakima Regional nurses picket outside the hospital
Posted:
Updated: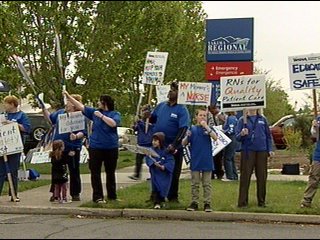 YAKIMA, Wash.- Registered Nurses at Yakima Regional Hospital picketing outside in hopes for change.
The Washington State Nurses Association represents more than 250 nurses from regional hospital. They are trying to get attention from the community and a response from the hospital.
"This is a wake up call for them that we are standing by what we are proposing and we're not going to stop," said Susan Jacobson, a nurse at Regional.
They are referring to their contracts. Nurses contend the hospital is proposing less vacation time, less time for continuing education and no wage increases for next year. Nurses feel their work is not valued.
"Nurses are going to get fatigued, worn out and burned out and its about recruitment and retention," said Julia Weinberg, the WSNA President.
It's not just about wages and benefits, Nurses are also concerned about patient care.
They say the hospital is getting rid of the "Conference Committee", a group of staff including nurses that discuss patient issues with management. Nurses worry the voice of patients will be silenced.
"They care about this community, they care about the people that would be their patients and they really do care about the hospital, a lot of them have been here a long time," said Weinberg.
Yakima Regional administrators released a statement that reads, "Yakima Regional Medical and Cardiac Center continues to engage in good faith bargaining with the WSNA with the hope of reaching a fair and equitable contract. The parties recently agreed to enlist the services of a federal mediator to assist in the process. We have scheduled further bargaining sessions on the mediator's first available dates in early may. In the meantime, our physicians, nurses, and staff will continue to provide the highest quality patient care to the community we serve."
The WSNA plans to meet with hospital administrators on May 5th and 6th.