YSD announces 2010 Crystal Apple Awards recipients
Posted:
Updated: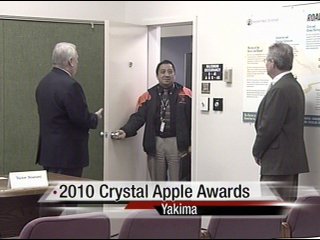 YAKIMA, Wash. - The Yakima School District recognized five educators Tuesday for their contributions to local schools as part of the 2010 Crystal Apple Awards.
One-by-one, they walked into a conference room Tuesday morning at Central Services and were greeted by cheers and the announcement that they were an award winner.
Ben Ramirez is the principal at Davis High School. He says he wouldn't have received this recognition without the support of his family and co-workers.
"It's just one, one reflection of everything that's happening around me," he said. "I'm really honored, on behalf of Davis, I really appreciate the opportunity to be honored this way."
Nominations came from staff, parents, and students. A committee made up of members from the business community and school organizations then picked the winners from the 17 nominees.
The award recipients each get a Crystal Apple and a check for $1,000, thanks to sponsors of the program.
Next Tuesday, the district will once again celebrate the winners with an event at the Yakima Convention Center.
2010 Crystal Apple Award Recipients:
Sally Niemi
3rd Grade Teacher
Nob Hill Elementary School
Victor Nourani
Principal
Lewis & Clark Middle School
Leslie Pease
Arts Education Specialist
Washington Middle School
Ben Ramirez
Principal
Davis High School
Dave Walter
Instrumental Music Teacher
Eisenhower High School