Dancing All the Way to the Top: Selah Softball
Posted:
Updated: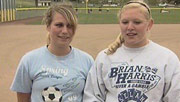 (Photo: SWX)
SELAH, Wash. - The finish line is in sight for the Selah girls softball team. Eyeing its first league title in school history. You would think this would add pressure to the Vikings. However, the girls are too busy having fun to feel it.
Selah softball currently sits at 13-1 and first place in the CWAC and closing in on the school's first ever league crown. As the pressure mounts the players begin to prepare even harder - by dancing?
Senior Varsity softball player Baylee Bumyard said, "We all know when to have fun and when to be serious and there's some time when you don't need to be so serious."
Senior Varsity softball player Samantha Harris said, "I think it helps practices not seem so long, even though they're like two hours or more sometimes."
Senior Varsity softball player Monica Stout said, "We have a lot of team unity, I guess you could say we are all really close and we have a good time."
The Vikings seem to take on the personality of their seven seniors, especially the one named Tori. But why?
Senior Varsity softball player Jamie Alliston replied, "I'm not aloud to say that on camera."
Senior Varsity softball player Tori Slobig said, "They're not picking on me they're just jealous."
Alliston remarked, "That pretty much sums it up."
Clearly this group of seniors have personality, and according to the head coach it's nice having a senior-laden squad.
Second year head coach Bill Harris said, "That's a blessing and a curse at the same time that we have 7 kids this year and next year they all go away."
By season's end the Selah Viking hope to experience seventh heaven with their seven seniors by winning their first league title and competing for the state title right in their backyard at Carlon Park.