Middle school testing starts next week; Some testing online
Posted:
Updated: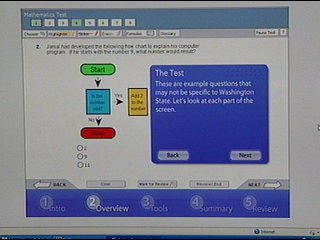 KENNEWICK, Wash.-- Starting Monday, May 3, middle school students in Washington state will begin taking the test replacing the WASL, now called the Measurements of Student Progress.
Differences between the old and new test include when they're being taken. The WASL for middle school students was in April, the MSP is in May. Also, the MSP is 75% multiple choice.
The biggest difference between the old WASL and new MSP is this year, some middle school students will be taking the math and reading portions on a computer. Other subjects will still be pencil and paper tests, and only some schools are part of the pilot program. For a complete list, click here.
Middle school students who will be taking the computer tests have gotten chances to practice using the software and to learn about the tools. Bev Henderson, Assessment and Staff Development Coordinator for Kennewick School District, says, "We're not concerned about students being able to do it and to take it. I think they're going to feel very comfortable with the computers and it'll be a great environment for the students."
Henderson says their concerns are more about logistics. "We're more worried about will the computers all hold up? will we have enough computers? what's going to happen to the infrastructure?"
The new testing period is later and will last longer, a full month, from May 3 until June 4. Henderson says the extra time will help. She explains, "In a months worth of time, we can pretty much get everyone though the labs or the small stations or classroom computers."
"I have confidence we'll get through it, as long as the system holds up and we can test everybody during the month, we'll be ok," Henderson says.