Lone log left at the Boise-Cascade site as developers move forward
Posted:
Updated: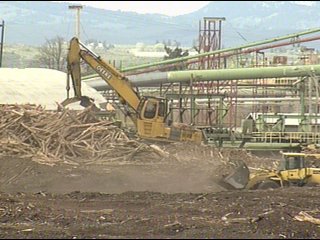 YAKIMA, Wash. -- As one industry shuts down developers look to the future at Yakima's Boise-Cascade mill site. Thursday was a benchmark in the development of the site as crews clean-up what's left of the mill legacy.
The Boise-Cascade site is the largest piece of developable property next to a freeway in the state of Washington.
More than 100 years of history, immortalized in one last log that will stay on the site.
"This was a mill that provided jobs for generations of Yakima residents and we wanted to pay homage and respect to the 106 years of operation here," said Brad Hill, representative, Dunollie Enterprises.
As crews work to clear the last of the chipping operation, which wrapped up this week, development leaders look to the future. At 221 acres the Boise-Cascade site will become mixed use development, from retail to light industrial the possibilities are endless.
Not only is the Boise property next to I-82, it also parallels the Yakima River.
"The fact that we're kind of between the river and downtown has opened up some very interesting possibilities for water themeing, in effect bring the river back to Yakima. I think of Yakima as a river town," said Hill.]
Another option being discussed is the development of a new Yakima County Stadium for the Bears. The freeway visibility is also a big draw for large chain retailers, but developers remain tight lipped on who's interested.
Phase one of the development should break ground around a year from now, that 50 acre project would include the Bears stadium. It could take around a 20 years to develop the whole 211 acre Boise-Cascade site.