Four injured in rollover accident in Union Gap
Posted:
Updated: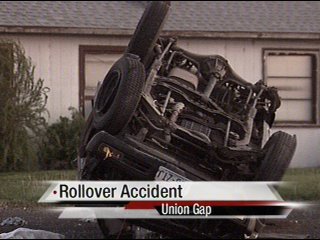 UNION GAP--One man is in critical condition and three others are hospitalized after a one-car rollover accident in Union Gap.
Emergency personnel responded to Franklin Street right outside the Union Gap School at about 7:30 p.m. Thursday.
Police found a Nissan Pathfinder resting on its hood; the car's driver had been ejected. One passenger had to be cut out of the vehicle.
Union Gap Police Sgt. Chase Kellogg told KNDO the car was heading down Second Street well over the 25 mile-per-hour speed limit when the driver lost control. Kellogg said the car rolled at least three times through a gravel lot, stopping in the middle of Franklin Street.
Kellogg said it was "very lucky" that no one was hit by the speeding car, adding that it is very unusual to see a high-speed rollover accident in this residential neighborhood.
But, he thinks he knows why the driver was speeding.
"Turns out that the vehicle in question had been involved in a shoplifting [incident] earlier in the Valley Mall," Kellogg said. "Officers were being dispatched to the Valley Mall when the accident was [reported.]"
Kellogg said no one was following the car when it crashed. He said police found stolen property in the vehicle.
The four injured men are at Memorial Hospital. One is in critical condition.
The status of the other men isn't clear right now.
KNDO initially updated this story on Twitter, including pictures. Follow KNDO at www.twitter.com/kndotv