Americans Take Californian with 13th Pick in Draft
Posted:
Updated: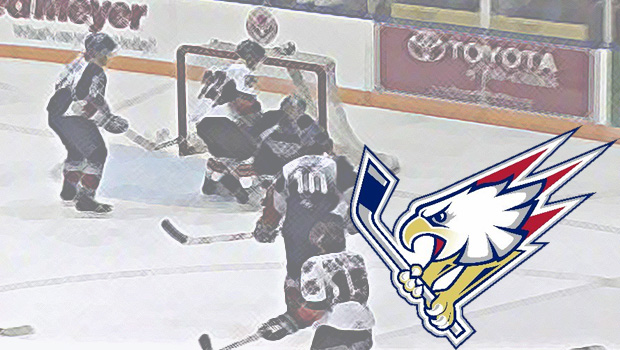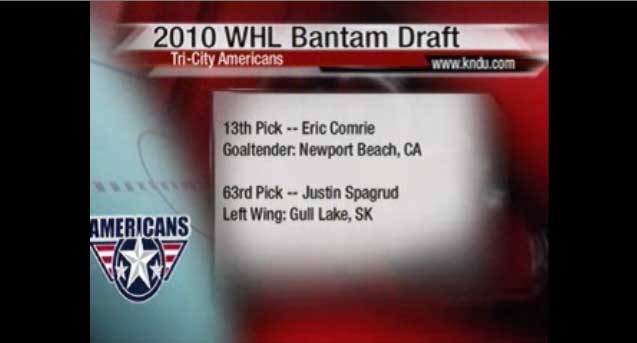 KENNEWICK, WA - The Tri-City Americans today made goaltender Eric Comrie their first pick (13th overall) in the 2010 WHL Bantam Draft, held at the Fantasyland Hotel in Edmonton, Alberta. The pick came after Americans' Governor/General Manager Bob Tory swung a deal with the Vancouver Giants, sending their first round (19th overall) and their second round pick in 2011, to jump six spots in the first round.
Comrie, listed at 5'11 and 175 pounds, was the top ranked goaltender in this year's draft after leading the LA Selects Bantam AAA club to several tournament wins around the country. Eric, the younger brother of current Edmonton Oilers forward Mike Comrie, became just the second goaltender ever taken by the Americans in the first round, joining current Montreal Canadians netminder Carey Price, who was taken 7th overall in the 2002 Draft.
"(Comrie) is a tremendous kid and has tremendous talent," explained Tory. "We feel like we got a real special player and kid." Tory continued, "(Eric) has the potential to be a goaltender of similar caliber to Carey Price or Dan Blackburn. Knowing how important the goaltending position is, we feel like we've filled this spot for years to come."
"I'm very excited and honored to be a part of the Tri-City organization," said Comrie shortly after receiving the news he was selected by the Americans.
After sending their second round pick to Lethbridge as part of the deal for Eric Mestery, Tri-City then used their next pick on left wing Justin Spagrud in round 3 (63rd overall). The 6'0, 145 lb forward from Gull Lake, Saskatchewan led the Swift Current Kabos Raiders this season, totaling 35 goals and 62 points in 26 games. The Raiders finished with a 20-3-3 record in the South Sask Minor Hockey League, eventually falling in the League Finals to the Notre Dame Hounds in three games.
Tri-City Americans 2010 Bantam Draft Results:
(GP, G, A, PTS, PIM)
1st round (13th overall)
Eric Comrie (G)
5'11 175 lbs, Edmonton, AB
LA Selects Bantam (Stats unavailable)
3rd round (63rd overall)
Justin Spagrud (LW)
6'0 145 lbs, Gull Lake, SK
Swift Current Kabos Raiders Bantam (26/35/27/62/30)
4th round (85th overall)
Josh Wik (D)
6'3 184 lbs, Swift Current, SK
Swift Current Kabos Raiders Bantam (26/0/7/7/57)
7th round (148th overall)
Austin Seaman (D)
5'11 155 lbs, Calgary, AB
Calgary Bison Bantam AAA (33/2/18/20/28)
7th round (151st overall)
Taeron Lewis (RW)
5'10 160 lbs, Winnipeg, MB
Winnipeg Monarchs Bantam (30/28/18/46/35)
8th round (173rd overall)
Brian Williams (C)
5'8 141 lbs, Claremont, CA
LA Selects Bantam (Stats unavailable)
9th round (195th overall)
Ryer Sawchuk (D)
6'0 160 lbs, Taber, AB
Lethbridge Val Matteoti Golden Hawks (25/1/11/12/30)
10th round (217th overall)
Clint Filbrandt (D)
5'6 120 lbs, Calgary, AB
Calgary Northstar Sabres (33/2/10/12/34)
11th round (239th overall)
Andrew Oglevie (RW)
5'10 150 lbs, Fullerton, CA
LA Selects Bantam (Stats unavailable)
12th round (261st overall)
Taylor Marr (F)
5'4 131 lbs, Twin Butte, AB
Lethbridge Val Matteoti Golden Hawks (33/23/18/41/8)