Employee questions new equipment at Worksource
Posted:
Updated: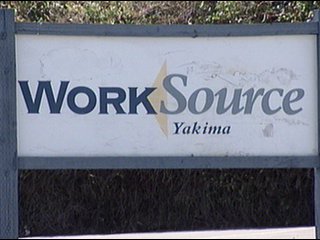 YAKIMA--Jobs are hard to find and money's tight everywhere, but not all the funding at Worksource Yakima is helping people find jobs.
New chairs, couches, phones and kitchen appliances, all for the employees at Worksource Yakima.
Violet Lehew isn't employed by Worksource, but she helps disabled veterans through her work study program located at the office on Division Street. She said clients have noticed the new equipment.
"[A client] and her husband walked up and [said,] 'So why is there a furniture truck outside? Like you guys are getting all of this brand new stuff and my husband just got laid off,'" Lehew said.
Worksource is state and federally funded, so KNDO looked into the spending to see why taxpayer money went to furniture instead of job programs.
Director Ignacio Marquez said purchases like this flatscreen televisions let Worksource help more people at once.
"We needed to make sure that we had the right equipment to help them," Marquez said. "So they didn't have to come in time after time after time."
But a brand-new stove and refrigerator in the employee lounge won't serve many customers if any. Why buy that?
"They were old," Marquez said. "They were over 20 years old and there it becomes a safety issue."
He believes new appliances and seating will improve employee morale and in turn improve customer service.
"They need to sit down, take a break, take a breather. Then they can come out and continue working with job seekers."
Marquez didn't know how much everything cost, but said Worksource spent prudently.
"We always take into consideration the fact that this is taxpayers' money," he said. "We're not going to go out and get the top-end [furniture.]
Lehew thinks the money could have been better spent.
"I don't know anybody there who needs a new chair bad enough to take it away from somebody else who needs a career, who needs training, who needs help finding a house."
Marquez says that may be the case, but it's not quite that simple. Nearly all of the money Worksource receives, both from state and federal sources, is intended for a specific purpose, and it can take years to transfer funds from one program to another.
"When one funding source says you must spend your money this way, you've got to do it," Marquez said.
Worksource clients were split on whether furniture and appliance purchases were justified, some saying the timing was poor, while others believed Worksource employees deserved the new stuff.