Washington State Patrol holds tryouts that nearly a third fail
Posted:
Updated: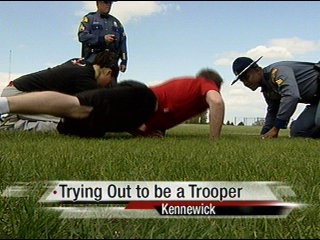 KENNEWICK, Wash.-- Trying out to be troopers; a test today at Kamiakin High School didn't involve paper or pencils, people from across the state tried to pass the physical fitness test for the Washington State Patrol.
They tried his luck at a test - that nearly a third would fail.
They grunt, sweat, and push; trying to make it into the State Patrol academy.
Today nearly seventy from Spokane, Yakima and the Tri-Cities are trying to pass the new WSP physical fitness test. For a 25-year-old male, it's 29 pushups, 39 sit ups, and a mile and a half run in under 13 minutes.
"It's more the fact that people don't prepare themselves it's a generation of video games and online and cars and motorcycles," says trooper hopeful, Jon Hausmann."Nobody walks anymore."
Nearly a third of these men and more than half of women will fail this test, leaving fewer recruits for troopers to choose from.
The problem is with nearly a hundred troopers set to retire at the end of next year, they really need people to start passing this test.
"It's very important that these individuals meet the PT standards so they can go and complete the rest of the selection process," says Sgt. Johnny Alexander. "And hopefully to fill those shoes in the future."
They say the test is fine. Troopers are just going to try finding more conditioned recruits. At their last tryout in January. twenty percent more passed the test; meaning more help may be on the way.