Yakima police officer shoots armed man
Posted:
Updated: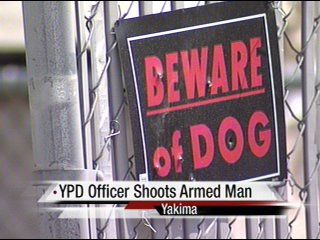 YAKIMA--A Yakima Valley police officer opens fire on a suspect for the second time in 2010.
Yakima police were investigating a report of shots fired around 9:30 p.m. Saturday, when they met a 25-year-old man in the backyard of a home in the 800 block of South Eighth Street.
Police say the man is a known gang member and was armed
YPD Sgt. Tony Bennett told KNDO he could not disclose many details, saying only that the encounter led to an officer shooting the 25-year-old twice in the leg.
Bennett said opening fire is a last resort.
"It's something that we prepare for, we train for, but you don't ever want to do that," [shoot someone] Bennett said. "No one ever wants to have to go to that extreme, to use deadly force."
Bennett would not release the names of the victim or the officer.
The officer is on administrative leave, standard procedure in officer-involved shootings.
This is the first time Yakima police have shot someone in the line of duty since December 2008, when two officers fatally shot a man who was trying to run them over. An investigation ruled deadly force was justified in the incident.
In January, Union Gap police shot a teenager who pointed a gun at them. The investigation later determined the gun was a toy.
Police expect to release more information on the shooting Monday. Watch KNDO, visit www.kndo.com or follow us on Facebook or Twitter. We'll provide details as they become available.
Twitter: www.twitter.com/kndotv. Facebook: http://www.facebook.com/pages/Yakima-WA/KNDO-TV/276473062938