Southridge senior makes honoring mom her final assignment
Posted:
Updated: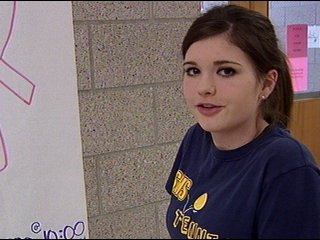 KENNEWICK, Wash.-- A senior at Southridge High school has a special final project; just two weeks ago, her mother died from breast cancer and now she's raising money for breast cancer awareness.
Nearly two years ago, Taija Rickords' mom, Lisa, was diagnosed with breast cancer. Doctors thought they had it in remission, but it in turn spread to her bones and brain.
Ever since her mother started to get worse, Taija has decided to make raising awareness for cancer her last project as a high schooler.
Now, at a time in her life when most are trying to enjoy their senior year, Taija has had to do more growing up than any seventeen-year-old should. She knew her mom was in bad shape on April 21st, but during U.S. Government class, she got the news she knew eventually would come.
"I got this call slip that said come to the front office," she says. "And I started walking down and I see two of my brothers and I'm like, 'why is he here? why is he here,' and they came up to me and said, 'Taija, Mom passed away.'"
The Rickords' adopted Taija in middle school. She has four brothers and sisters, all of them adopted, including her younger brother, who has autism. The adoptive's daughter's loss is even tougher to take after Taija spent years in foster care.
"It's kinda weird that she's gone now," she says. "I guess because she's the person that got me to open up and attach myself to people and I guess love somebody again."
"Love for Lisa" has been Taija's senior year culminating project, and a way to pay it forward. It's a sponsorship team of more than thirty of her friends and family, in co-ordination with this Saturday's Strides Against Breast Cancer Walk. She's raised nearly two thousand dollars so far, but has lofty goals to be the number one fundraiser in the Tri-Cities.
"So that there can be a cure and other people don't have to go through what I had to go through my senior year," she says.
To reach her goal, Taija is having a fundraiser at her school this Friday.
The fundraiser event will be at Southridge High School on Friday May 7th at 5 PM and will be a Sonic style hot dog feed with an optional movie in the school auditorium. There will also be a dessert auction during the dinner, all to prevent anyone from having the senior year she had.
"If I'm able to reach my goal and if I'm able to make an impact, and actually get my team name, "Love for Lisa," out there, and have people to pay attention, I think I'll be able to look back on my senior year and think all this stuff happened for a good reason. I was able to help other people out," she says.
To donate to her "Love for Lisa" team, please click here.
Taija would also like any donations of food, especially hot dog ingredients for this Friday's fundraiser. To help, please call 737-6738, or email chris.hurst@kndu.com
The Strides Against Breast Cancer Walk is this Saturday at Howard Amon Park in Richland, starting at 9 A.M. For more information, visit:
http://main.acsevents.org/site/TR/MakingStridesAgainstBreastCancer/MSABCFY10GreatWest?pg=entry&fr_id=25973