Paying for unemployment insurance
Posted:
Updated: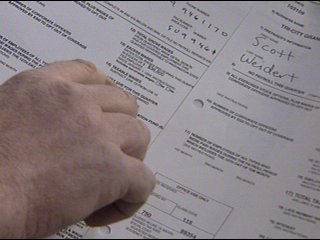 KENNEWICK, Wash. -- A one thousand percent increase on unemployment insurance is what one small business owner is dealing with on his business quarterly tax report.
Scott Weidert owns Tri-City Granite. He says he noticed a big change when he filled out this quarter's tax report after laying off 12 workers during the past couple of years.
Now, Weidert must not only deal with the struggle of losing his staff, but he must also pay for the significant increase in unemployment insurance.
Weidert says, "When you have a factor of .0054 and it raises to.0596 you're increasing the tax 1000 percent right there."
At first glance, it looks like the jump in tax could be due to worker's compensation rising this year by 7.6 percent. But Worksource employees say that's not the case.
Candice Bluechel, with Worksource, says, "This is the unemployment insurance tax rate which is a different issue. those are not the same thing."
Michael Cob is a distract tax administrator. He explains, "If you have more former employees filing claims for unemployment, your rate will go up based on those former employ drawings."
Right now tax specialists say unemployment insurance can jump significantly from quarter to quarter like it did with Weidert's business as he laid off more and more workers. But starting in 2011 a new law will go into effect that will cause the increases to occur more gradually.