Yakima City Council members will give some of their pay back
Posted:
Updated: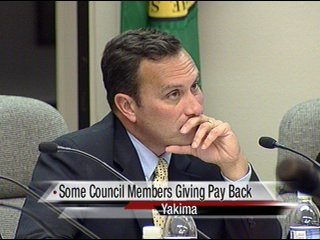 YAKIMA--At least three Yakima City Council members will donate part of their salary back to the city.
KNDO has confirmed Rick Ensey, Kathy Coffey and Dave Ettl will donate two percent of their pay back to the city.
Council members get a monthly $1,075 stipend. Two percent of that is only $21.50, adding up to $258 for the entire year.
Ensey said he's been considering writing a check to the city since council decided two weeks ago that non-exempt city employees had to take a seven-day furlough to help reduce Yakima's budget deficit.
Even if all seven council members participate, that's only $150, but Ensey believes the message matters more than the money.
"It's a goodwill gesture," Ensey said. "It shows the employees that we're paying attention and maybe it puts the union on notice that [they've] been spared a lot of pain, but that's going to end."
Ensey thought all council members would give back two percent of their pay, but as of 4:30 p.m. Wednesday KNDO has only confirmed that Coffey and Ettl will voluntarily return a portion of their stipend.
Coffey receives $1,175 monthly as Assistant Mayor; she will return $282 of that money.
About 200 city employees must take a seven-day furlough to help make up Yakima's $1.3 million budget deficit.
Longtime City Manager Dick Zais said it's not unheard of for council members to return their stipend. According to Zais, former Mayor Mary Place regularly returned her salary, instructing the city give the money to the Parks and Recreation Department.
Zais could not recall city council discussing a freeze or reduction to the stipend since a budget crisis in the early 1980's.