CBC marketing class creates special wine labels
Posted:
Updated: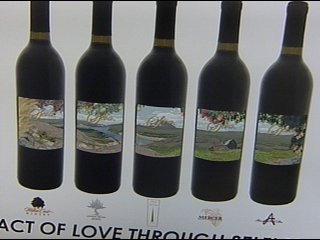 PASCO, Wash. -- A professor at Columbia Basin College told his students they had free reign for a special assignment helping with an FFA fundraiser; their goal was to make special wine labels.
It is all part of the creative marketing class at CBC. The FFA said they wanted wine labels that were idyllic. So a graphic designer in the class came up a composite picture of local scenery.
Then the students had the bright idea to cut up the picture into five sections, leaving a label for five wineries. For the next five years, these wineries will sell bottles of this series called Seva, which is sanskrit for "an act of love".
All of the wineries, starting this June with Willow Crest, will sell the wine and raise money for the Washington FFA Foundation.
All of the ideas and work were done by the students who say they exceeded even their expectations.
Paul Fulks said, "I think being my own worst critic, I just kept finding stuff that needed more improvement. I just blew myself out of the water with what I could do. I had no idea I had this kind of potential."
Julie Murphy said, "What it's done for me is it's pushed the limits of where I thought I could go. It's a safe place to do that and it's a wonderful opportunity to work with real world clients."
Now each year until 2014, a different local winery will sell the Seva wine. They expect bottles to be around $30.